Welcome to the Official Site for Harmony Chasson. You may recognize Harmony from one of her numerous print campaigns for companies such as The Children's Place and Target. Here you will find all the news and up to date information about this talented young actress. For Industry Professionals looking to learn more about Harmony, please click on her name above for an overview of information.


NEWS & UPDATES
21 May 2013
Burning Love
Harmony had the
fantastic
opportunity to film an episode of
Burning Love
last fall. Working with Carter and Presley they played some of the children of
Jerry O'Connell
when he brings his kids and three wives to meet the potential fourth wife. She of course is taken aback as this is a relationship contest spoofed off of
The Bacherlorette
, she never saw this one coming. Harmony loved the experience of being on set and getting to do a web series. A clip can now be found in the
media section
while screencaps are in the gallery.
Harmony has some exciting
booking news
! Last week she filmed a
commercial
for
Skechers
, and she also just shot an upcoming print issue of
Babiekins Magazine
with Presley!
Posted by: Lisa
12 May 2013
Lil Toes Photography
Welcome back!! As you can see some changes have been made to Harmony's website in the form of a brand new
main layout
! She recently had a new photoshoot with Colette and the amazingly talented Marie of
Frontier Designs
made this
fantastic
new design for the site. I hope you all love it as much as we do.
Harmony had a
wonderful
time shooting with Colette Cugno of
Lil Toes Photography
. She always has the best locations in mind for photos and Harmony loves each chance she gets to shoot with her. The photos came out
fabulous
! Colette always captures the
perfect
photos, from serious looks to all of the laughs and smiles throughout the day.
Thank-you
Colette for another
amazing
set of images!



Posted by: Lisa
07 May 2013
Happy Birthday!
Harmony is so happy that this day has finally arrived, one that is full of fun, well wishes, presents, cake, and more! It's all about
excitement
and
celebration
in the Chasson household as Harmony celebrates her birthday!
Happy Birthday Harmony
! I hope you have a
wonderful
day with family and friends as you celebrate your
special
day. Make sure to make a big wish when you blow out the candles on your cake, I hope it comes true!
Happy Birthday
!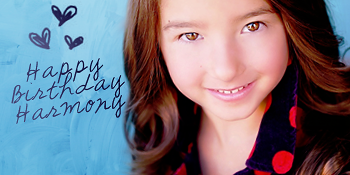 (Thanks Sarah for the banner!)
Posted by: Lisa
06 May 2013
Jakks Pacific
Hopefully everyone has had a chance to browse the
Jakks Pacific
dress up items for
Ariel
at their local Target or Walmart. Make sure to head back and take another look because Harmony has been spotted on the packaging for another toy! This time it is the
Royal Musical Microphone
. She loved shooting the images for this, getting to play with the toy, pretend like she's singing the next big
Disney
hit. She finds it so cool getting to see herself on the box and is
excited
to know that people all across the country are seeing her photo while they take a look at the toy on store shelves, make sure to check it out in person!
Posted by: Lisa
<< Previous 1 2 3 4 5 6 7 8 9 10 11 Next >>